3 tips for exterior lighting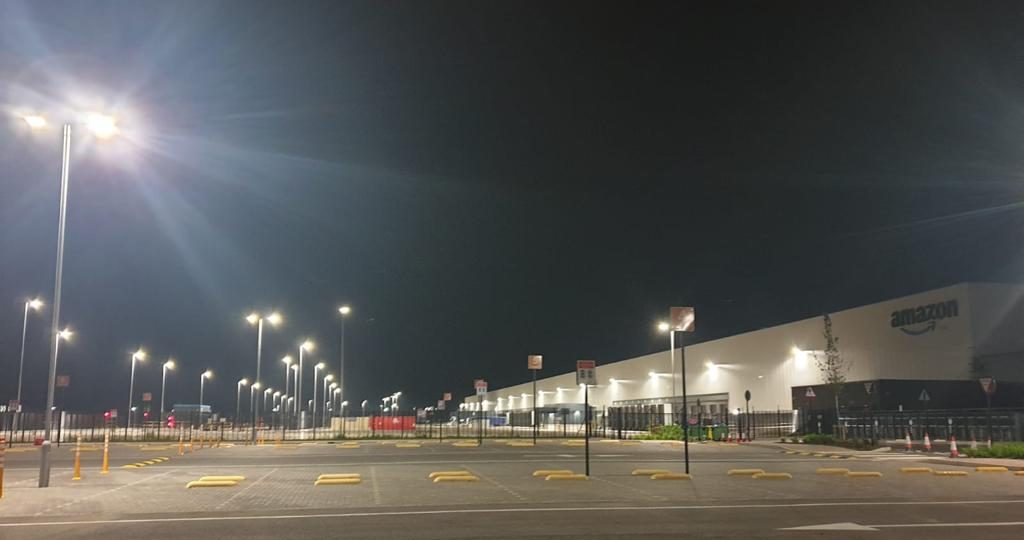 When implementing smart lighting solutions within warehouses, factories and distribution centres the safety and wellbeing of the people that use the space is obviously paramount. Our first thoughts are often on the interior of the scheme, however, the exterior is equally important; after all, it's the first place users encounter lighting. For example, within the car park.
Our expert team suggest their top three tips for ensuring you get your exterior industrial lighting right. 
Declutter
Decluttering helps keep spaces clear and obstacle-free, which is great for areas with lots of goods and machinery movement. Select luminaires (BREEAM compliant and mounted flat to ground) for service yards with a good forward throw to avoid the need for additional columns in the centre of the service yard. Remember, perfect symmetry is nice but often means using more columns than are required.
CCTV is essential for security and safety. 
Consider adding cameras to the lighting column directly, to avoid unnecessary additional posts. Be sure to select the correct column. It will need to take the cameras' additional weight and windage and prevent excessive deflection that can interfere with the recording quality.
Appeal 
Just because we are in an industrial setting doesn't mean we don't need to consider aesthetics. Factories and distribution centres all represent brands and, in some cases, are the first interaction clients have with a company. There are several small actions you can take to make a real difference.
Low-level bollards work well for pedestrian walkways to guide visitors around the site at night, and at either side of the entrance, touches of colour can add personality, branding or wayfinding opportunities.
When lighting car parks adjacent to offices, you should avoid columns taller than the building. Who wants to look out of the window to see a column? 
If you are mounting fittings directly to cladding, avoid long wall mounted outreach arms, ideally select a luminaire with an integrated wall mount bracket. This is more aesthetically pleasing and avoids additional weight and force affecting the integrity of the cladding.
Furthermore, if the budget will allow, consider the RAL of wall-mounted fittings and order in the same RAL as the cladding. This way, they blend subtly with the building.
Control
Lastly, high energy-intensive environments such as factories and distribution centres, which run 24/7, benefit greatly from installing a smart controls system, not just internally but for exterior lighting too – car parks and loading bays. Today wireless control systems are now available without breaking the bank. They offer the flexibility to control the lighting to suit the site's ever-changing use and provide invaluable, real-time monitoring of the luminaire's performance.
More generally, we recommend using LED fittings with a colour rendering index CRI of 80 or more for efficiency and safe movement. This colour rendering index is also recommended for CCTV surveillance (and to ensure footage is of good enough quality to identify a person for evidence if required).
If you would like more information on lighting industrial exteriors then please contact the team.